Reports
Gun merchants use social media to sell firearms and heavy weapons in opposition-held Idlib
By Mahmoud a-Shimali and Justin Clark

IDLIB: A few of the recent posts in the "Free Idlib Market" Facebook group include a set of Lycra pajamas, a 1983 Nissan sedan, a German-made PKS machine gun, an AK-47 and a small glass coffee table.
The "market," which is tagged "public" on Facebook and can be accessed by anyone with an account, is one of numerous Facebook groups where Syrian arms dealers buy and sell firearms and heavy weapons to the highest bidder. The groups feature ads for assault rifles, muzzle suppressors (silencers), bombs, and anti-tank rockets.
In January 2016, Facebook announced that it would ban all weapons trading on its website, including the sale of legally-owned firearms. Nevertheless, the Syrian Voice found several Idlib-based groups advertising weapons with a simple Facebook search in Arabic.
In February 2017, the New York Times reported that Facebook had become a medium for the sale of guns in Syria, Iraq, Libya, and other destabilized nations, with several US-made weapons given to moderate Syrian rebels appearing on Facebook advertisements.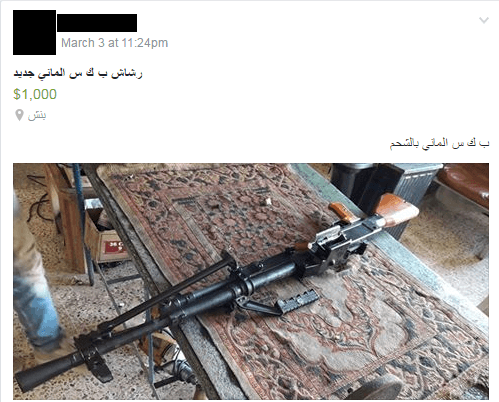 "New German PKS machine gun, $1000". Photo courtesy of Facebook.
One of the arms dealers profiting from the online arms trade is Idlib resident Muhammad a-Sweide. A-Sweide, who asked that his real name not be published for security reasons, keeps a variety of weapons in stock. Aside from automatic rifles and machineguns, a-Sweide sells tank rounds, 20mm and 40mm rockets and armor-piercing "Faghout" missiles, among other items.
Items range in price depending on the model and make of the firearm, and local merchants even provide "non-traditional" firearms, such as pistols disguised as pens or watches, a-Sweide tells the Syrian Voice.
Though he receives "special requests" from local militants, he tells the Syrian Voice that anyone can buy his weapons through the instant messaging service Telegram.
A-Sweide makes a comfortable salary trading firearms, explaining that last month alone he made $3,500 from selling four Russian-made Konkurs anti-tank rockets.
Idlib's online arms trade is a symptom of the widespread lawlessness in opposition-controlled regions of Syria, where armed groups and militias hold sway over civilian-run institutions incapable of enforcing even a semblance of law and order.
The local police in Idlib cannot regulate the arms trade and are concerned that some of the weapons are being used in inter-rebel assassinations, a local police officer tells the Syrian Voice.
In January and February alone, the opposition-run police in Idlib province recorded more than 30 murders, including several that used non-traditional weapons built for assassination that are sold by arms dealers on social media, says Hussein al-Hasyan, member of Idlib's opposition-run police force.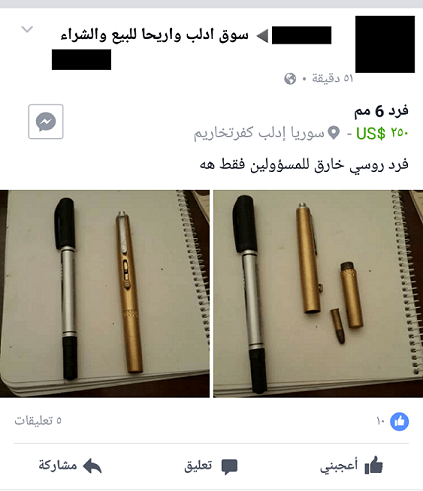 "Russian gun for official buyers only, haha." Photo courtesy of Facebook.
Assassinations have become a common occurrence in Idlib, especially after relations between various rebel factions deteriorated late last year and erupted into violent clashes in January.
On December 25, unidentified attackers used silenced weaponry to assassinate two leaders of the Free Syrian Army at the faction's headquarters in Marrat a-Numan, a city in central Idlib province. Last October, nine officers belonging to Jabhat Fateh a-Sham (now Hayyat Tahrir a-Sham) and the Sham Brigade were assassinated with silenced weapons at checkpoints belonging to the groups in southern Idlib, Enab Beladi, a pro-opposition Syrian media outlet, reported.
Fighting the black market

"Fighting the illegal trade of arms would take a massive effort, and it might even require international aid," al-Hasyan, the local police officer, tells the Syrian Voice.
"The chaos, and the fighting between factions are some of the police's biggest obstacles in combating the black market for weapons," says al-Hasyan.
Nabil a-Rafae, an arms dealer in the city of Ariha to Idlib's north, tells the Syrian Voice that the only thing regulating the sale of arms is a dealer's "morality."
For his part, a-Sweide, the arms dealer, claims that both rebel fighters and police officers are among his customers.